These posts mostly cater to the needs of the audiences who already have a basic knowledge of the products. They are mainly looking for information that would influence their opinion and help them finally choose the best possible option.
97 Best Blog Ideas and Topics That Will Be Popular in 2022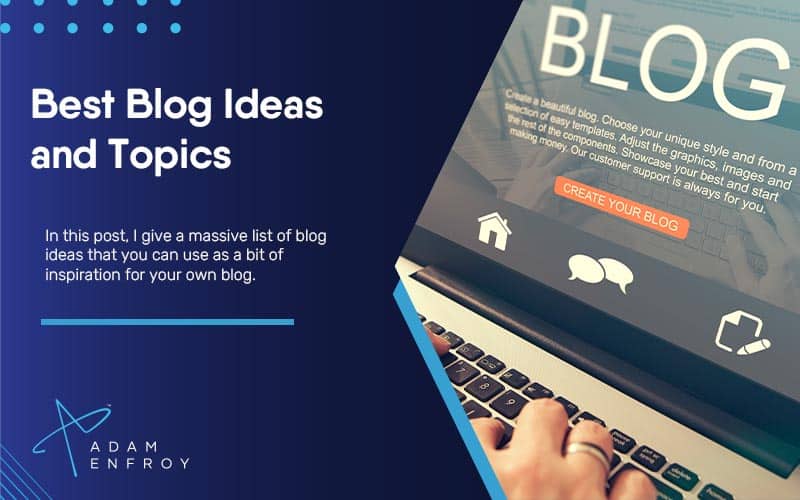 1. How-to Guides.
If you already have practical knowledge on the subject, creating the content is decidedly easy since you're basically demonstrating the process from your own experience. It can also help new bloggers build organic search traffic.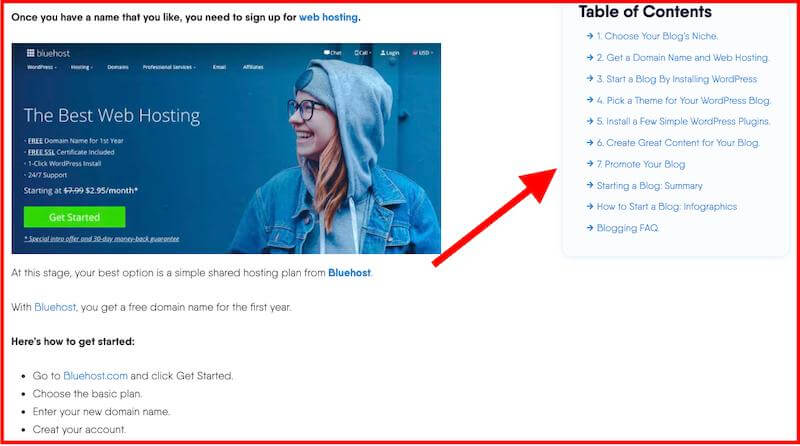 2. List Posts.
A list post or listicle is an online blog post that features a number of things. Such posts revolve around a list of points, and you can even call them numbered list posts. In fact, the post you're currently reading is a list post.
You can use numbered lists to attract multi-tasking audiences who are too busy to read through the entire content. Such posts make it easier for the readers to skim through the title and get the general idea through the titles only.
How-to Guides and List Posts are the only two types of posts you need if your goal is to make money blogging. While How-to Guides run through steps in chronological order to achieve an end goal, List Posts list out items or tips in a non-chronological order.
3. Round-up Posts.
Round-up posts contain lists of resources gathered from other bloggers' content or several resources, including different products, recipes, tips, etc. It could also be a round-up of tools, strategies, statistics, and more.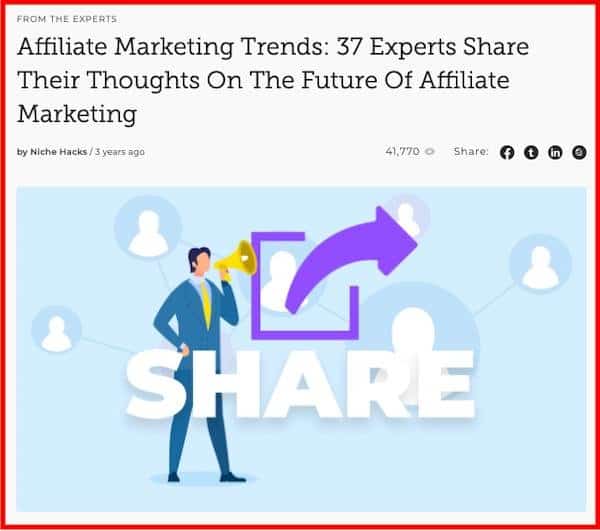 Crafting round-up posts requires a lot of research on the experts of your niche. However, they have plenty of benefits like helping you gain backlinks, building relationships with influencers in your niche, etc.
4. Ultimate Guides.
Ultimate guides are multi-chapter guides that cover a specific topic in detail for viewers seeking advanced information and guidance on that topic. To create good ultimate guides, you need to do in-depth research and refer to various other blogs to collect data.
Begin by choosing your topic, create a template for exact sub-topics or chapters you'll include, and collect guides to follow for inspiration. Plus, leverage Google Analytics to do competitive research and add even more sub-topics than your competitors.
5. Experiential Posts.
Experiential posts or personal stories are posts that help audiences connect with the personal life of the author. You can engage your audience with personal stories and build emotional attachment by sharing relatable stories, thereby gaining their attention for a longer time.
For example, sharing your struggle of overcoming a disorder can be a good way to connect with your audience on a more personal level. Other examples could be sharing professional struggles, happy memories on a trip, enjoyable moments from attending a cultural event, etc.
Depending on your story, you can attract traffic based on your headline alone. For instance, if you come across a heading that says "How I Left My Cushy Job to Earn a Million Dollars a Year," the chances are that you'll feel inclined to read it further.
6. Interviews.
Another way to add authenticity to content is through interviews. Interview-based posts require reaching out to industry experts and asking them a series of questions about topics that your readers may find useful.
Interview posts provide additional information that also acts as credible evidence of the topics discussed in the blog. Another advantage is that they are a great way of creating marketing content you don't have time to write yourself.
Interviews also often shed light on personalized experiences, which can be inspiring for target audiences, like experiential posts. For example, interviewing athletes to ask about their personal struggles or interviewing a successful blogger to discuss his road to success.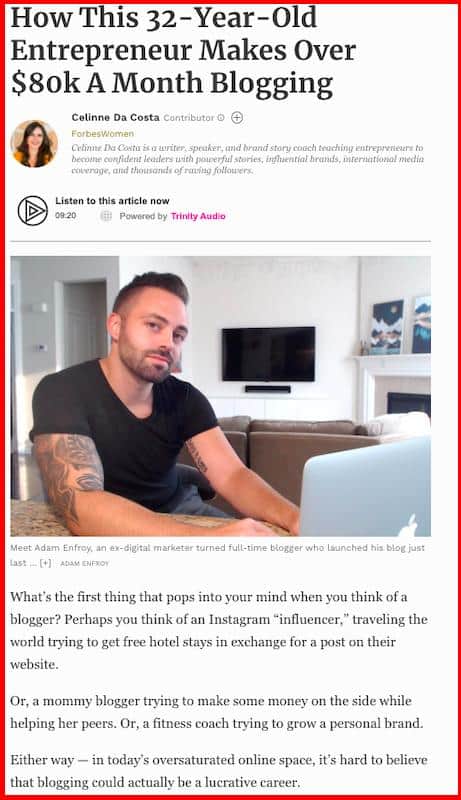 However, don't forget that interview-based posts would appear as engaging as the questions you ask. If you ask interesting questions, then only you'll get interesting answers that will result in an engaging post.
For example, instead of asking something like "Did you begin with a business plan" – ask something like, "Walk me through the step-by-step process that you used to reach where you are today. How did you begin? What was the first step you took?"
Wrap-Up.
Disclosure: I may receive affiliate compensation for some of the links below at no cost to you if you decide to purchase a paid plan. You can read our affiliate disclosure in our privacy policy. This site is not intending to provide financial advice. This is for entertainment only.
Adam Enfroy
Adam Enfroy is a full-time blogger and affiliate marketing expert. Join Adam and 500,000 monthly readers on AdamEnfroy.com to learn how to scale your influence at startup speed. Before starting this blog, Adam managed digital marketing teams for large SaaS startups and reviews the best software to run your online business. He has been featured in over 100 publications, including Forbes, Business Insider, and Entrepreneur.
Disclosure: Some of the links in this article may be affiliate links, which can provide compensation to me at no cost to you if you decide to purchase a paid plan. These are products I've personally used and stand behind. This site is not intended to provide financial advice and is for entertainment only. You can read our affiliate disclosure in our privacy policy.
Traffic and Lead Generating Blog Ideas
Blog Post Idea #19. Create a contest or giveaway.
Blog Post Idea #20. Answer popular questions you find on forums.
Blog Post Idea #21. Partner with another blogger to guest post on each other's blogs.
Blog Post Idea #22. Interview an influencer in your niche.
Blog Post Idea #23. Write about what sets your business apart from competitors.
Blog Post Idea #24. Write about creative ways people have used your product, service, or information.
Blog Post Idea #25. Interview your readers or customers.
Blog Post Idea #26. Conduct a poll, survey, or quiz, and share the results.
Blog Post Idea #27. Create content around your most successful keywords.
35 Blogging Ideas That Are Guaranteed to Be Popular Topics
Blogging with a purpose increases market share, consumer engagement, revenue growth, and ROI. Of course, you want to do that. I mean, just look at this: But once they start the blog, a lot of people I know are still stuck on the fundamental question: What do we blog about?
1. How To Guides
People generally hate reading instruction manuals. When was the last time you snuggled up with a glass of wine and the instruction manual to your toaster? How do people figure out how to do stuff? They Google it. WikiHow became insanely popular based on how-to articles alone. You might be surprised to see the kind of things people are Googling. If you can find your niche audience, cater to their curiosities, and give them some helpful answers, you can't help but create a popular blog.
2. Politics
Politics are popular during every election year. Whether national or local, find a political topic to discuss, and join this conversation. Politics can be dicey, however. People tend to get really polarized around political topics, so be prepared to handle some controversy.
3. Bacon
Everyone loves bacon. Huffington Post is one of the most popular blogs online, and it has an entire archive of bacon articles. It's not a trend going away soon, so get on board.
4. Recipes
5. Beginner guides
Before you can convince someone that you know the advanced stuff, start with 101 beginner guides. My own beginner guides have been very popular. Everyone has to start somewhere. Beginner guides are often the way bloggers build organic search traffic at the start, and they can even be done using infographics like this guide to Sharepoint.
6. Ultimate guides
7. Frequently asked questions
Be warned that posting answers to frequently asked questions online won't stop people from asking anyway. They do, however, serve as a resource for people, and they are often featured on ecommerce websites—but overlooked on blogs. FAQs are blogging gold in any age. Google's algorithm uses FAQs, questions, and other popular topics as part of its Knowledge Graph. If you're lucky, you might score a top spot in this coveted place.
8. Interviews
The best way to set yourself apart from the ocean of bloggers is to gain insight from industry experts. Whether it's with people on your team or from other companies in the industry, set up interviews on websites like helpareporter.com to gain valuable knowledge from a professional. Thankfully, you don't have to be in the same room as your interviewee to talk to them. Come up with a list of questions your audience would be curious about, and email it instead. You could also post the questions via Twitter or another social media channel.
9. Personal stories
10. Charity and activism
Any type of charitable actions, events, or activism you support should be blogged about. Crowdfunding sites such as KickStarter, IndieGoGo, GoFundMe, and the like appeal to the good in people, and showing you're active in these communities can build your readership. Even an occasional Change.org petition can help the brand image.
11. Product reviews
12. Breaking news
Use your blog to discuss breaking news topics. Don't get me wrong, I'm not saying you should try to compete with actual news outlets. But you can still write about recent events. When it comes to breaking news, timing is everything. Being the first one to break a story isn't always the best. Sometimes you're better off waiting to publish your content until all the facts are straight. You don't want to get a reputation for posting unreliable information. Here's an example of a news story published on the TechCrunch blog: Make sure your news story is relevant to your business. For example, let's say you run a fashion blog. A breaking news story about a technological advancement isn't related to your brand, so don't write about it.
13. Myth-debunking
Every industry has facts and fiction, which is why shows like Mythbusters got so popular. We love learning what we've been doing or thinking wrong this whole time, so popular bloggers debunk myths. What are some common misconceptions or myths regarding your industry or niche? Compile a list, and then use it to create a really fascinating post for your audience. Make sure you back up your claims, though. Otherwise, readers will lose their interest when they realize they're reading the rants of someone who really doesn't know what they're talking about. Approach writing such an article with the intention of providing as much useful and usable information as possible.
Authorship:
https://www.adamenfroy.com/blog-ideas#:~:text=%20What%20Are%20the%20Best%20Blog%20Ideas%20and,detailed%20experience%20of%20trying%20a%20new…%20More
https://www.oberlo.com/blog/blog-ideas
https://www.quicksprout.com/blog-topics-and-ideas/